Aracon
The Aerospace and military industries have many applications that require weight conscious designs, that in most cases may include the cable. A major contributor to a cable's weight is the braid or shield material. An alternative to copper braid is metal-clad fibers. Aracon ® is one such material which provides exceptional EMI shielding, strength, and flexibility. Typically switching from copper to Aracon ® fiber can reduce the weight by 60% in the braid. Aracon ® is combined with DuPont Kevlar ® to provide high tensile strength and excellent conductivity. Calmont has vast experience working with Aracon ® for space and military applications. The large number of fine threads and the tendency of yarn to flatten and spread give this material more shielding coverage than copper.
Benefits
Strength – The density of metal coated fibers are half that of copper, at the same time, the tensile strength of the aramid core (350 Ksi) is from three to ten times higher than that of traditional or high-strength copper (35-95 Ksi).
Reduced weight
High strength
Improved flexibility
Withstands repetitive flexing and vibration
Excellent coverage
Easily terminated
Why Calmont?
Calmont Wire & Cable has years of experience manufacturing cables with Aracon ® for an assortment of projects including The Space-Based Infrared System (SIBRS). We can assist you with your design, suggest the braid construction, and manufacture a high performance cable that will exceed your expectations.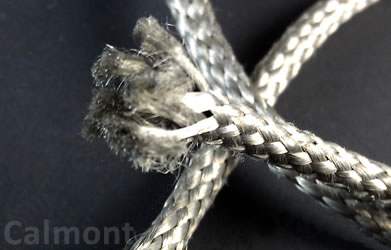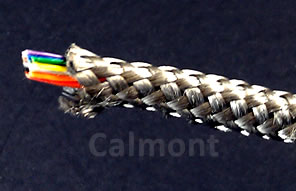 Calmont is ready to assist you with your wire and cable designs with no obligation. Talk to an expert today and get the answers you need.
Technical Information
Request a quote
Design assistance
Speak with an engineer
Samples
Contact Us
If you have any questions about our cable or wire products, or if you're looking for a quote, contact us at (800) 905-7161 or through our online form.
ARACON® is a registered trademark of Micro-Coax, Inc.
KEVLAR® is a registered trademark of E.I. du Pont de Nemours and Company