Medical Grade Silicone Applications
Posted on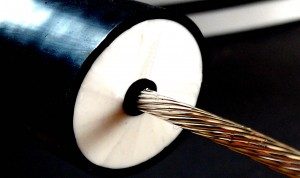 Silicone insulated wire and cable is an excellent choice for medical cable applications.  Besides being extremely flexible, silicone rubbercan withstand autoclave and other forms of sterilization. Properties that make silicone suitable for medical applications include: Low thermal conductivity, low chemical reactivity, low toxicity and  thermal stability (consistency of properties over a wide temperature range of 100°C to 250°C). Abrasion resistance is a concern when considering silicone insulation or jacket.  Formulas for higher tear strength are available to increase resistance to abrasion.
Applications suitable for silicone cables include:
Arthroscopic
Surgical Robotics
Electrosurgical
Implantable
Ophthalmic
Foot Switch
Patient Monitoring
What makes a material medical grade? Materials are tested for bio-compatibility and are categorized to be used for medical applications. Medical grade materials are generally grouped into three categories: non implantable, short term implantable and long term implantable. Materials approved as USP Class V and VI can be considered medical grade, most medical grade silicone is at least Class VI certified.
Uses for medical grade silicone cables include:
Tubing/Lumen
Drains
Feeding tubes
Catheters
Implants for long and short term use
Sensors
Co-extruded and multi-layer silicone cables can be used for high voltage applications such as X-Ray and MRI equipment which require electrical noise suppression and limited power loss . Co-extrusion involves extruding a semi-conductive silicone layer around the conductor to remove air thus reducing corona. Extruding both semi-conductive layer and jacket simultaneously insures no air or particles are caught between the layers. Benefits for co-extruded silicone include corona, moisture & ozone resistance, lightweight and flexible cable design, radiation resistance to name a few.
When working with your custom cable manufacturer, it is crucial to provided them as much information as possible about the application, the environment, sterilization and bio-compatibility requirements. The more information you can provide to your silicone cable manufacturer will help in determining if silicone is right for your application and to offer you material choices that will enhance your product's performance.
Contact Calmont Wire & Cable today for more information or if you have questions regarding medical cables, silicone or material choices for your project.
Feel Free to comment or share this article. Stay up to date with new articles and events, be sure to engage us through our social media channels.