Robotic Wire and Cable Selection Tips
Posted on
It wo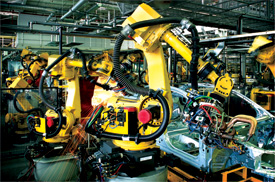 uld be nice to go online and simply purchase robotic wire or cable for your robotic application. The truth is, selecting the right wire for robotics isn't that easy. Robotic movements vary and have different levels of demand on the robotic wire. Movement includes repetitive flexing, torsion/twisting and bending at multiple points. Off the shelf wire and cable normally isn't manufactured to endure these types of robotic movement.   Robotic wire   and has to be manufactured based on the type of movement and use. Construction and material selection are key factors in preventing robot failure. Robotic cable designs begin with material selection.
Tell your custom cable manufacturer all about your robotic application and include:
The type of movement is required of the wire or cable, number of cycles.
The environment which it will be operating in. Include temperature, contact with fluids or moisture and abrasion resistance.
Other requirements such as, voltage, EMI, flammability and any special needs.
The more your custom cable manufacturer knows about your application the better your cable design will be.
Material choices depend on the robotic requirements and begin with the conductors. Conductors (except solid core) are made up of multiple strands of fine wire, the more strands in the construction the more flexible and resistant to flex damage the conductor will be. The use of high strand count  alloy conductors is recommended for high flex cycles and torsion. Alloy materials are stronger than standard copper conductors and can withstand repetitive flexing and vibration. High strand count conductors are available in several types of configurations (view here),  your cable manufacturer can recommend the right one for you.
Insulation and jacket materials also play an important role in the robotic wire or cable's performance. Selection will depend on the surrounding environment. Silicone insulation and jackets are ideal for chemical resistance, high temperatures and super flexible cable designs. Silicone is not as resistant to abrasion as other materials. Understanding the material properties (view chart)  will help narrow down the choices.
Cable construction also needs to be considered. Cable lay, lay direction, strength  members and type of EMI shield  The wrong type of shield may cause damage to the conductors and compromise   EMI protection   in high flex environments. Consult your custom cable manufacturer for the best solution for your project.
Working closely with a cable manufacturer experienced with robotic cable applications during the design phase, can save you time and money with problems down the line from using a cable not suited for robotic application.
Your comments are welcome. If you enjoyed this article, please share it with your colleagues. If there is something you would like to read about, let us know!