Extruded shapes: Flat Cables to Wine Corks
Posted on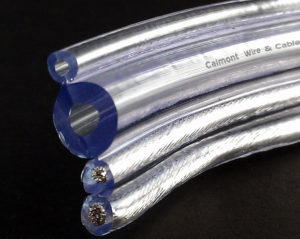 Custom wire and cable manufacturers have the ability to extrude a variety of shapes, from round, flat cables, odd shaped cables, tubing to wine corks. Extruding machines can be outfitted with dies and tooling to create different extruded shapes. The extrusion process is different than injection molding, the heated plastic or rubber material is forced through a die in continuous lengths as you see with cable jackets or tubing. Injection molding the material is injected into a mold. Extruded shapes are limited by your imagination. With the right tooling almost anything is possible.
Extruded Shapes: Case studies

Artificial Wine Cork
Calmont is proud of our willingness to be challenged. A scientist hired by a California wine consortium to develop an artificial cork approached Calmont to find a way to get it done. When we asked the customer why he chose Calmont, he responded that Calmont was the first company he contacted that wasn't intimidated by the challenge he presented. Calmont's ability to process a variety of FDA approved materials and a willingness to work with customer-provided materials, was instrumental in developing this innovative product. It is that kind of response to difficult problems that has made Calmont the preferred supplier for the most demanding and unique applications.
Hula Hoop
Another popular extruded shape is tubing In 1958, Bill Chilcote the founder of Calmont, seized an opportunity and assembled extrusion equipment to produce tubing for a hot selling new product – the Hula Hoop. Within three months, the Wham-O Company sold over 25 million Hula Hoops and Calmont was born. In the beginning the strip on the Hula Hoop was painted on and was wearing off after a short time of use. Wham-O asked bill to make the stripe permanent, Bill created a co-extrusion process to extrude the stripe at the same time as the tubing was extruded. Tubing and medical lumen are used in a variety of industries and can be extruded with multiple tubes, flat cables with tubing, even triangular shaped cables.
Contact Calmont Wire & Cable to discuss your project and provide you with solutions to your extruded shape requirements regardless of how unusual it is.