Custom Ultra Flexible Hook Up Wire by Calmont
Posted on
For over 50 years Calmont has been manufacturing custom wire and cable and we are known for manufacturing custom ultra flexible hook up wire.
Calmont's proprietary lines of custom ultra flexible hook up wires are a perfect fit for applications with demanding flex requirements. When you need ultra flexible wire from 40AWG to 4/0, we can help you.
Calmont's product line-up for ultra flexible hook up wire includes: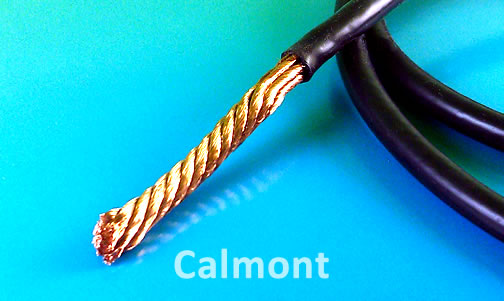 SuperFlex– SuperFlex was pioneered and developed by Calmont for the exacting commercial and military markets. Specially compounded and plasticized polyvinyl chloride insulation applied over ultra fine stranded wire yields a finished wire with a longer flex life and a higher flexure index level than that attainable with ordinary PVC insulated wire. It's ideal for low temperature, high flex applications. SuperFlex is commonly used for disposable medical devices, robotics, sensors and assorted cost sensitive commercial applications. 26 and 29AWG is normally in stock.
FluoroFlex – Calmont's precision extrusion techniques combine the superior properties of FEP with the durability of a highly stranded conductor to produce an unequalled product. It is small and lightweight, yet will withstand the severe and repeated flexing that usually destroys other fluorocarbon insulated wires. FluoroFlex is highly versatile and suitable for broad usage in aerospace, computer, and medical electronics. Being chemically inert, FluoroFlex can be used for medical implantation. It has the smallest finished diameter of any of the Calmont high flex products. FluoroFlex's excellent dielectric properties also make it ideal for data and audio applications. 26 and 29 AWG is normally in stock.
SiliFlex – SiliFlex is distinguished by its extreme limpness and flexibility. It is the most limber of all the high flex products offered by Calmont. Silicone rubber insulation compounds are inherently soft and pliable and resist the plastic flow that characterizes many insulation systems. Silicone compounds can be tailored to meet a variety of demands such as extreme high and low temperature requirements, flame resistance, flexibility, radiation resistance, strength and purity. SilifFlex is used extensively for robotic, aerospace and medical applications. Our popular Siliflex 26 and 29 AWG is normally in stock. Select colors and sizes in 50ft spools available at McMaster-Carr (contact us for part numbers).
SiliFlex Ribbon Cable – SiliFlex Ribbon Cable is produced from high stand, round copper conductors that are individually insulated with silicone rubber. They are then laid parallel and bonded in an extremely flexible flat form. With this flat configuration, the mechanical load applied to the cable is distributed over the total width of the cable, allowing for improved heat dissipation and greater flex life performance over traditional round cables. SiliFlex Ribbon Cables are the perfect solution for applications like computer hardware hook up, aircraft, and industrial automations. Siliflex Ribbon Cable is high temperature resistant (150-200 Cº) and is tested to withstand several million flexes without breakage. SiliFlex Ribbon Cable is manufactured in accordance with, and can be certified to meet, the applicable requirements of MIL-W-16878, Type F. This product is made to order with a quick turnaround. You pick the number of conductors, AWG, conductor plating and colors.
Calmont also manufactures hook up wire in a variety of other materials for all types of applications including high voltage, robotics, medical, aerospace and others. Contact us today to get the right wire for your project we can assist you with your wire design and suggest the best design for your application.